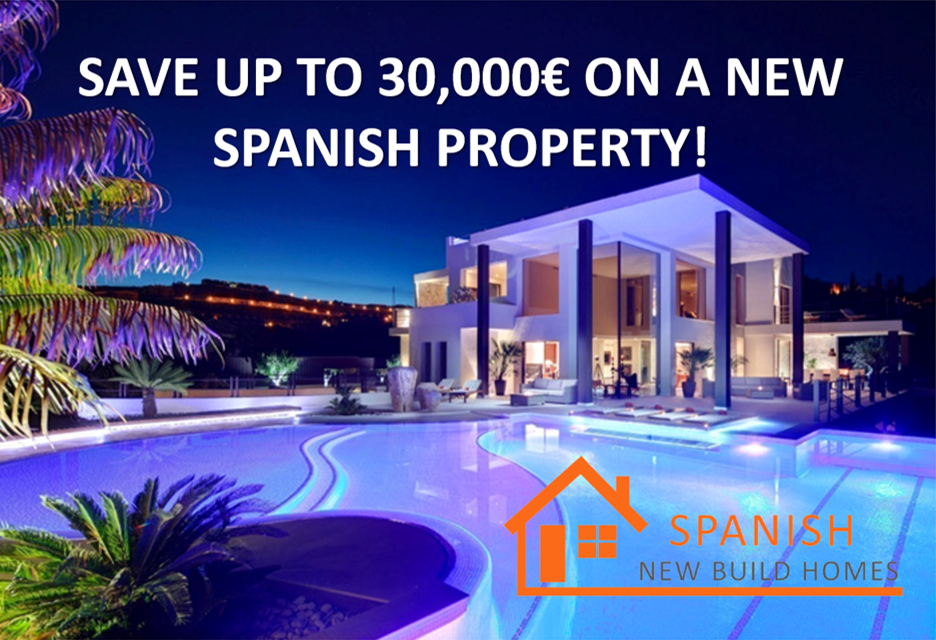 At Spanish New Build Homes, we are always looking to save you – the buyer – as much money as possible.
Here's how we can help you reduce the cost of your new-build Spanish property purchase …
The Offers
1. We pay your legal fees on completion.
2. We pay your utility connection fees.
3. We refund your hotel and flight costs*
4. We provide free international phone calls for 1 year.*
5. We provide free building insurance for 1 year.
6. We provide a free property management service for 1 year*
7. We provide free white goods*
8. We provide free Internet & IPTV for 1 year*
9. We provide free hire car for up to 2 weeks*
10. We provide a free Mortgage Broker Service.
*Terms & Conditions Apply
How our Spanish New Build Property Offers Work.
Once you have booked your property buying trip, let us know when and what properties you would like to view from our website here… We'll confirm dates and times and then meet with you for the viewing/s. This may take a couple of hours, or several days, depending on how many properties you would like to see. Then, our time is all yours.
Should you decide to purchase a property through Spanish New Build Homes, – it could be a key-ready, or off-plan – we will provide everything you need during the purchase and conveyance period. We're with you for the whole journey and beyond.
On completion of your new Spanish home, we will provide a selection, or in some cases, all of the special deals listed above.
During your visit, your designated viewing guide will inform you which deals from the list above applies to the actual property you are viewing at the time. We are very flexible and open to our clients preferences on the offers they would prefer.
We guarantee no other Spanish Property Agent will beat us on price, or quality of service throughout your buying journey.
For the best choice of New Build Spanish Properties, just register for regular offers and we then send direct to your mailbox here